ronnachu
Mirror, Mirror
picspam. Porque el capítulo me encanta y necesita un picspam. Lo cual es una excusa horrible porque TODOS me encantan (menos los que me encantan MUCHO), y no he hecho una mísera captura de Amok Time o de The Changeling (and that's serious business, bitches). Pero qué puedo decir. La barba de Spock y los brazos de Kirk me pueden.
Guy from the planet. Captain. You have the might to force the dilithium from us.
Captain Sexy Pants. But we won't. Consider that.
Primero, un Captain Kirk como los de toda la vida, para que no olvides cómo es. Aunque no me lleva su camiseta de siempre, lo cual puede significar que su misión es formal y diplomática (...), que hoy no tiene intención de rasgarla, o que ha rasgado todas las que tenía y no le quedan. Cómo puede nadie dudar de la bondad interior de nuestro capitán. Si no se nos ha puesto su Sombra de Ojos del Mal.
Pero no os preocupéis, porque el epi de hoy tiene la maravillosa túnica de los brazos del bien, que nos permite ver esos miembros tan bonitos que le salen a Shatner de los hombros. ¿Que no te queda claro? No te preocupes, yo te lo explico:
Pero ahí no acaba la felicidad del día, porque pronto nos encontramos con...
Lo sé, Kirk, lo sé. No te queda claro, ¿verdad? Yo te lo explico: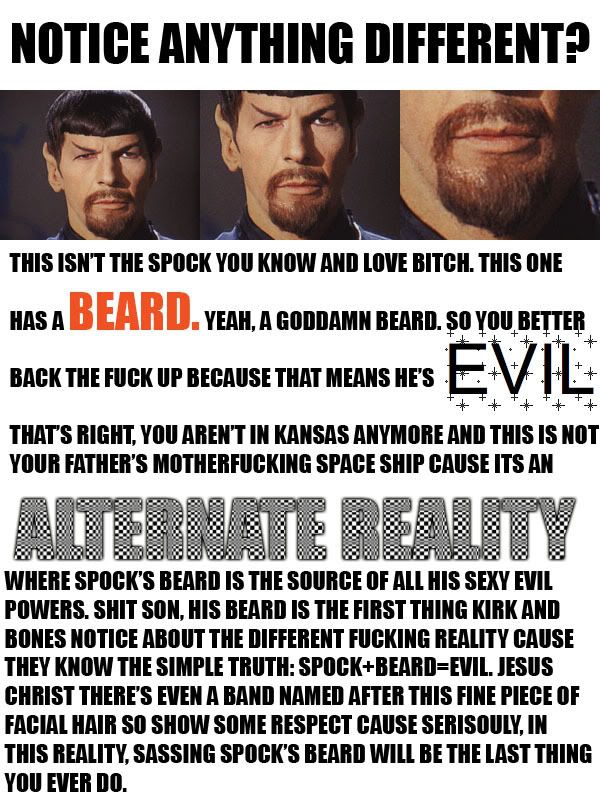 Hmm, so this is... Spock with a beard. Not too bad. I mean, it could be... I mean, it's evil and everything but... God, I
need
to know if we're getting any in this universe.
Este episodio tiene mucha ¡¡UHURA!!, que es una badass y la amo. Claro que todo el mundo necesita un poco de apoyo emocional...
Uhura, you're the only one who can do it.
Oh noes, evil!Sulu is evil!!! Beware, Uhura!
ASÑDFKJASDÑGLKAJSDÑLGHAÑSDLKJFOGQIÑWRIAÑ
LKSDJFLKASJDFÑLASJDFÑLAKSJGDHGLAJSDFÑ
LKJQOWEIUROWQIEJDLSKMCASLDKFMASLGNVHASLÑ
DJTRQOISEF. Nada más que añadir, señoría.
Spock. A serious breach of orders, Captain.
Kirk. I have my reasons. And I'll make them clear to you... in my own good time.
Queda claro que aquí todo el mundo es IVOL, ¿verdad?
Captain's Log, supplemental. I command an Enterprise where officers apparently employ private henchmen among the crew, where assassination of superiors is a common means of advancing in rank.
But you made a mistake, random crewman... You don't fuck with Captain James T. Kirk.
Bones. What's this?
Krik. It's called blood.
(McCoy is not a doctor. He is a mother. Fact)
GUAPO. Y malvado, el pobre:
Captain James T. Kirk. Succeeded to command I.S.S. Enterprise through assassination of Captain Christopher Pike.
Bones. Jim. If we're here, what are our counterparts doing back in our universe?
Kirk. On my our Enterprise...
You traitorous pig! I'll hang you up by your Vulcan ears. I'll have you all executed! Has everyone gone crazy? What uniform is this? WHERE'S YOUR BEARD?
(Nota: El "Where's your beard" NO es introducción mía. Es la forma que tiene Kirk de darse cuenta de que este universo está MAL. El otro Kirk también lo dice por ahí: "A parallel universe... Spock with a beard..."
This is just crazy
. LOVE IT.)
Kirk. All right, Spock. Whatever your game is, I'll play it. You want credits? They're yours. What is it that will buy you? Power? Power, Spock? I can get that for you!
Spock. Fascinating.
[Meanwhile, in a parallel universe...]
Captain, I'm glad you frustrated Mr. Chekov's attempt. I should regret your death. I do not desire the captaincy.

Logical, as always, Mr. Spock.
Spock.You cannot ignore the consequences.
Kirk. Is that a threat?
Spock. I do not threaten, Captain.
Kirk. I merely state facts.
Kirk. You would find me a formidable enemy.
Spock. I'm aware of that. I trust that you are aware of the reverse.
Hmm, he's got a nice ass in this universe, too... And the beard really is something...
OMG!! Unexpected semi-naked girl in Kirk's quarters!! This is... good. Isn't it, Captain? Or were you thinking about anybody else?
Marlena. Kirk! The cabinet itself?
Kirk. Further than that, if I'm successful.
Por supuesto, estamos hablando del capitán James T. Kirk. Hay una reputación que mantener. Una pena que en este universo no esté Spock siempre ahí para interrumpir convenientemente en el momento en que...
Spock. I am committing a breach of regulations by informing you of this, Captain.
Did I even say something?
Marlena. To Spock -- the only man aboard with the decency to warn you. You'll never find another man like him.
Oh, por cierto, ¿sabías que aquí tienes una pantalla secreta desde la que puedes espiar a toda la nave? ¿Qué es lo primero que piensas hacer con ella, Kirk? ¿Mirar a Uhura cambiarse en sus cuarteles? O tal vez...
Marlena. That magnificent mind of his.
De verdad que adoro este momento, en que Spock sabe que Kirk lo está mirando, y lo desafía
, y le recuerda todas las veces que han jugado a cosas sucias con este cacharro
.
Kirk. I've never seen perfection... but no
woman
could come closer to it.
Marlena. Prove it.
Kirk. I have to go.
(xDDDDDDDDDDDDDDDDDDDDDDDDDDD Vale,
un poco
sacado de contexto. Pero es más o menos así. LO JURO.)
Bwahahahahahaha, cómo no, Marlena. Yo también lo haría.
Kirk. Uhura, keep Sulu's attention off that board.
(Sí, esta captura está sólo para apreciar Los Brazos. ¿Algún problema?)
Uhura. I was getting bored
.
Uhura. Oh, I changed my mind... again
.
UHURA, YOU SEXY BADASS!!
Spock. You will please restrict your movements, Captain
.
Which is Vulcan for DON'T MOVE A FINGER, MOTHERFUCKER
(Seriously. Those arms. SERIOUSLY.)
FIGHT! FIGHT! FIGHT! ON THE FLOOR! WHERE'S THE MUD? MAN, I REALLY HATE THAT YOU'VE ONLY GOT ONE SHIRT IN THIS EPISODE, KIRK, YOU SHOULD TOTALLY HAVE RIPPED IT!!
Bones. He'll die without immediiate treatment! I just need a minute!
Such a drama queen, doctor. It was just a little hit on the head... Aun así, merece la pena por Kirk preocupado cargándolo, heee.
Kirk.
He is very much like our own Mr. Spock, isn't he?
Oooooh, wait a second there. I'm evil!Sulu, and I haven't made it into this picspam yet!! Look at my supercool scar! I'm evil
!
Venga, chicas, todas conmigo. A la de una, a la de dos, a la de tres...
YAY SIXTIES!!!!!!!!!!!!!!!!!!!!!!!!!!
Una vez acabada la interrupción (sorry, Sulu, that's all you get. But the scar looked really evil), podemos volver a Kirk haciendo drama de más por Spock.
Kirk. You've got that minute, Bones.
Spock. Why did the Captain let me live?
Spock.Our minds are merging, doctor...
Kirk. I'd help you if I could, Marlena...
But you have to understand I can't really explain you to my AU boyfriend, you know?
Once again: BADASS!UHURA FTVFW!!!!
Scotty. One of us will have to stay, Captain.
Kirk. Get to the transporter chamber.
Scotty. Jim!
Kirk. That's an order, Scotty.
Scotty. ... Aye, sir.



Spock. I cut the transporter power. It was necessary to delay your beam out until I could arrive.
Kirk. You're a man of integrity in both universes, Mr. Spock.



Spock. You must return to your universe. I must have my captain back. I shall operate the transporter.
Kirk. I have something to say.



Kirk. How long before the Empire is overthrown? The illogic of waste, Mr. Spock. The waste of lives, potential, resources, time.



Kirk. I submit to you that your Empire is illogical, because it cannot endure. I submit that you are illogical to be a willing part of it.



Kirk. If change is inevitable, predictable, beneficial... Doesn't logic demand that you be a part of it?
Spock. One man cannot summon the future.
Kirk. But one man can change the present!



Kirk. Be the captain of this Enterprise, Mr. Spock.



Kirk. What will it be? Past or future? Tyranny or freedom? It's up to you.



Kirk. In every revolution, there's one man with a vision.



Spock. Captain Kirk... I shall consider it.
KIIIIIIIIIIIIIIIIIIIIIIIIIIIIIIIIIIIIIII
IIIIIIIIIIIIIIIIIIIIIIIIIIIIIIIIIIIIIIII
IIIIIIIIIIIIIIIIIIIIIIIIIIIIIIIIIIIIIIII
IIIIIIIIIIRK!
Kirk. Spock.
Spock. Welcome home, Captain.
QUIERO TANTO TANTÍSIMO UN ABRAZO WINCHESTERIANO ENTRE ESTOS DOS. Claro que quién puede quejarse con finales tan felicianos como éste, con el BAMF TRIO:
Kirk. That Jim Kirk will find a few changes... if I read my Spocks correctly.
Spock. ò.o
Bones. Jim, I think I liked him with a beard better. It gave him character. Of course, almost any change would be a distinct improvement...
Kirk. What worries me is the easy way his counterpart fitted into that other universe. I always thought Spock was a bit of a pirate at heart.

(En cristiano: IVOL!SPOCK CON BARBA ME PONE Y YO SÉ QUE HAY UNO EN ESTA NAVE Y PUEDO SACARLO.)



Spock. I had an opportunity to observe your counterparts here quite closely. They were brutal, savage, unprincipled, uncivilized, treacherous... In every way, splendid examples of Homo sapiens, the very flower of humanity. I found them quite refreshing.
Kirk. I'm not sure, but I think we've been insulted.
Bones. I'm sure.
(Mirad el modo en que reacciona cada uno. Bones se ve insultado, medio en broma, por un amigo; le pone mala cara y se va. Jim se ve insultado por un amigo. Sonríe como si le acabaran de nombrar el capitán más sexy de la flota.)
*la Marlene de este universo aparece y Kirk la reconoce*
Spock. You've met her before, Captain?
Kirk. Uh, why do you ask?
Spock. Your reaction -- one of... recognition.
Kirk. Oh, no. No, no. We haven't met before... exactly. She just seemed... a nice, likable girl. I think we could become friends. It's possible.
(En cristiano:
Spock.
¿Quién es ésa, Jim? ¿Qué quiere de ti? ¿Por qué sonríes así?
Kirk.
¿Qué pasa, Spock? ¿Celoso?
Spock.
No, no, es que te estoy observando (por razones médicas, no estoy del todo seguro de que eso de atravesar universos paralelos sea seguro. No es que me pase el día
observándote
), y parecía que la reconocías.
Kirk.
Oh, no. No, no. No. Ni de coña. No. Qué va. No, no, oh, no. No nos conocemos. Parece simpática. Una candidata a amiga. AMIGA. Ya si eso. Es posible.)
Parte dos:
selección de diálogo entre

criandomalvas
y yo durante el visionado.
Criandomalvas
: iiih que ganas tenía de ver este capi!!
Ronna:
THUNDER!
uhuraaaaaaaaa
uhura está abajo!!
Criandomalvas:
ooooooooh
Ronna:
convincing!Kirk
con pose de convencer
Ronna:
wtf, qué hace Kirk sin hacer nada
Criandomalvas:
porque debe de darse cuenta de que ese no es su spock
que va a hacer si no?
Ronna:
sí, bueno, por un momento se me ha olvidado que tiende a overemote por los random crewmen sólo después de que hayan muerto xD
Criandomalvas:
AJAJAJAJAJAJAJJAJA
Ronna:
ohhhh
guapo
qué bien le sienta esa camisa rara
brazos
Criandomalvas:
con los brazos al aire <3
Ronna:
lo digo desde ya, cri-cri
ME ENCANTA ESTE EPISODIO
Criandomalvas:
jajajajajaj
16:23 ai nouuuuuuuuuuu y a mi!!
Ronna:
se está dando cuenta de que está en un...
chan chan chaaaaaaaaan
Criandomalvas:
AU!
Ronna:
AU!!!
Criandomalvas:
jajajajaja
Ronna:
JAJAJAJAJAJJAJAJA
SPOCK WITH A BEARD
Criandomalvas:
muahahahahha la barba!!
Ronna:
EN ESO SE FIJA
Criandomalvas:
yes!!!
Ronna:
me pregunto si le pone
o no le gusta
Criandomalvas:
mmmmm
Ronna:
en un par de horas la asociará con cosas malas y ya no
pero así, la primera impresión...
mmmm
Criandomalvas:
seguro que le pone mas la actitud malota de beardy spock en la cama xD
Ronna:
ooooooooooooooooooh
un fanfic
en que en ESTE universo están liados
y kirk se enrolla con malo spock
y luego vuelve
y quiere al verdadero
Criandomalvas:
oooooooooh omg ese fic please!!!
Criandomalvas:
debería llevar mas a menudo las mangas así
Ronna:
mirada
guapo
tío bueno
Criandomalvas:
uyyy esa mirada
Criandomalvas:
oh
ivol chekov
que vas a hcer
oh
Ronna:
... chekov
no me hables así, hombre
que ya tengo mucho con los otros dos
Criandomalvas:
ivol chekov is ivol!
Ronna:
ivol chekov is hot
Ronna:
el angry!sex del otro universo, tía
tiene que sser una burrada
Criandomalvas:
oh dios
Ronna:
cerca
too close
están liados
están muy liados
con mucho angry!sex
Criandomalvas:
mucho
Ronna:
seguido de peleas
Criandomalvas:
sisis
Ronna:
y discusiones por el mando
Criandomalvas:
y precedido de
Ronna:
añsdkjas
añlsdkjfjasñldkfjañlskjdfa
Criandomalvas:
kirk, esa es una cara de estar muy poco acostumbrado a encontrarte mujeres en tu cama xDD
Ronna:
y no exactamente contento de hacerlo
esperaba otra compañía
Criandomalvas:
exacto xDDDDDDDD
16:43
Ronna:
eeeeeh
no le dice que no a pasárselo bien un rato, al parecer
ten en cuenta que viene de hablar con spock
tendrá sus necesidades
Criandomalvas:
va caliente
heee
Ronna:
oooooooh
16:44 y se lo cuenta en contra de las normas y en contra de sus intereses, tía!!!!
demasiado fic!!!
Criandomalvas:
omh siiiiiiiiiiii
Ronna:
you'll never find another man like him!!!!!!!!!!!!!
Criandomalvas:
chica lista!!
Ronna:
AÑSLKDJFAÑLSKDJF
HE'S GOT TO GO
mira que se lo pasa bien flirteando!
Criandomalvas:
muahahahahah dios kirk
16:51
Ronna:
pero a la hora de la verdad!
no puede!
o sea
O SEA
Criandomalvas:
pero q la hora de la verad se achanta
eso!
eso!!!!
Ronna:
sabes de qué me acabo de dar cuenta, y que es un drama?
Criandomalvas:
el qué?
Ronna:
que no romperán la camiseta de kirk, porque sólo tendrán una de ese estilo
xDDDDDDDDDD
Criandomalvas:
LOOOOOOOOOL TRUEE
que pena!!
Ronna:
kirk can convince spock of anything
any day
come on
le coge la mano a la chica
y mira a spock
Criandomalvas:
lolololol cierto!
Ronna:
sonrisa
Criandomalvas:
me ha recordado a pushing daisies
Ronna:
y eso?
Criandomalvas:
porque cada vez que se quieren coger la mano se la cogen a otro y se miran
Ronna:
OHHHHHHHHHHHHHHHHHHHHHH
TE QUIERO
Criandomalvas:
:D
Ronna:
IF I READ MY SPOCKS CORRECTLY
omg pirate
es decir: le pone
Criandomalvas:
jajajajajajajajajaj
me encanta tu logica xD
Ronna:
mi lógica es perfectamente sólida!
Criandomalvas:
celooooos
Ronna:
me encanta cómo habla
ay
pero la pregunta es
Criandomalvas:
a ver
Ronna:
por qué no se lo cuenta a spock? es algo perfectamente lógico, spock es un amigo, y le podría contar su ligue de universo paralelo
pero no
lo encubre
y habla de amistad
Criandomalvas:
omg !!!
cierto!!!!
ays te ha gustado??? :D
Ronna:
tienes que preguntarlo??
Criandomalvas:
xD
Ronna:
soy un charco en el suelo, ahora mismo
de felicidad
y cosas bonitas
y barbas
y brazos
Criandomalvas:
((((Serie)))
Ronna:
abrazo fuerteeeeeee!
IN A PIG'S EYE.